List
Moverio BT-350 Object Tracker
Posted Date: 2020-11-05 11:14 Edited Date: 2020-11-06 4:57 Writer: necktarios.black
Please provide your development details as below;

1. SDK Version: 5.0.2
2. Development Environment: (eg. Unity-Android, Unity-iOS, Native Android, Native iOS): Unity-Android
3. Tracker/Scanner: Object Tracker
4. License Type(Free / Pro-One Time Fee / Pro-Subscription / Enterprise): Free
5. Target Device(Optional): Moverio BT-350

We can assist better if you attach screenshots of issues.
Hello, I have a problem using my Epson Moverio BT-350 AR glasses when trying to track objects. I have succeeded when tried to track still Images but fail when trying to track an object. I use the Visual SLAM Tool Application and the tracking is good, but when I deploy it in Unity-Android for my eyewear, I can't track my object. Thanks in advance for your time,
Nektarios Patlakas
Posted Date: 2020-11-06 4:57 Edited Date: 2020-11-06 4:57 Writer: sjkim
Thanks for your interest in our MAXST AR SDK.
If you've seen that object is tracked through the Visual SLAM Tool app,
there's no problem with the 3dmap file.
But, you check to upload a 3dmap at Assets/StreamingAssets.
Please check the location of the 3dmap. See the image below.

Also, make sure you have selected the load button in ObjectTrackable.
Please check the location of the load button. See the image below.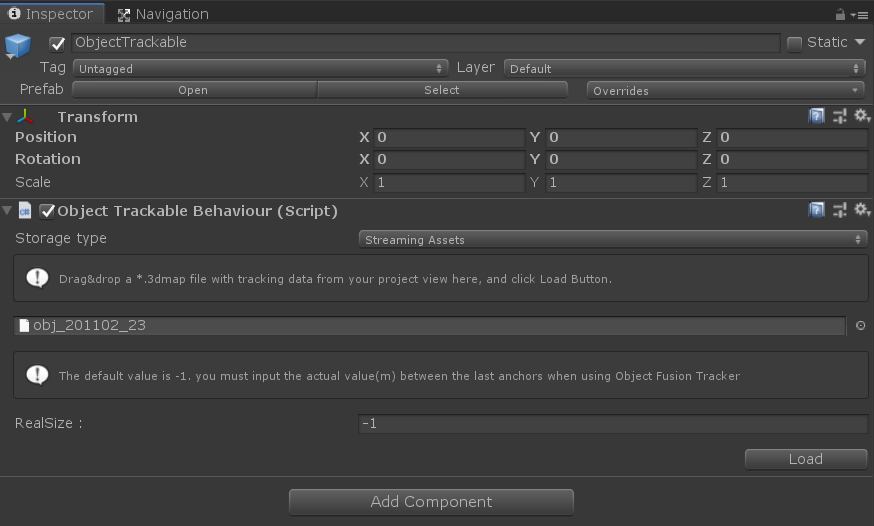 If you have any questions or encounter any issues, feel free to contact us.
Best regards,
Francisco
MAXST Support Team